Please join us to
discuss
Lexicon
 by Max Barry: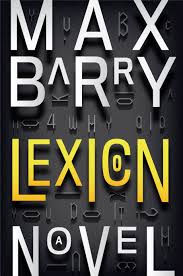 "Recruited into an exclusive government school where students are taught the science of coercion to support a secretive organization of "poet" world manipulators, orphaned street hustler Emily Ruff becomes the school's most talented prodigy before catastrophically falling in love, while a seemingly innocent young man is rendered a pawn in a dangerous power struggle." [From NoveList]
Both a genre and literary fiction title, Lexicon was singled out for excellence by numerous organizations in 2013-14 including:
Please arrange to obtain a copy of the

book

for your own use.
The group will meet:
Date:  

Wednesday, February 17, 2016
As always,
discussion
of the
book
includes a nuts-and-bolts session devoted to sharing practical solutions to the problems and concerns of
book
discussion
leaders.
This Leadership Training

Discussion

will focus on using genre titles for

book

discussions

.  Please come ready to share your favorite genre titles that work for

book

discussions

, your success AND failure when

discussing 

genre titles, and any questions you have about using genre titles in

book

discussions

. We will be compiling a list of genre titles that have worked and it will be posted for all to reference after the

discussion

as a resource for you to use going forward. If you host a genre

book

discussion

at your library, please consider sharing any resources or documentation that has helped you.