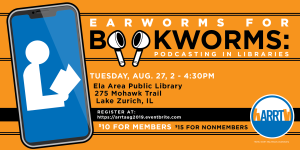 Join ARRT at the Ela Area Public Library on Tuesday August 27th from 2 to 4:30 pm to learn about podcasting for libraries.
The podcast platform offers libraries an exciting new way to spread the word about programs, materials, advocacy, and more.
Librarians from Des Plaines Public Library and Ela Area Public Library will talk about their library's podcasts and offer tips for starting your own.
$10 for ARRT members; $15 for non-members
Register online here