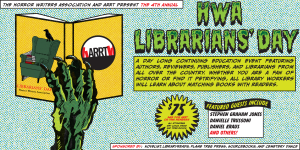 Join us for the Horror Writer Association Librarians' Day on Thursday, November 12, from 9 am to 4:30 pm.
The Horror Writers Association and ARRT present the 4th Annual HWA Librarians' Day, a day long continuing education event featuring authors, reviewers, publishers, and librarians from all over the country. Whether you are a fan of horror or find it petrifying, all library workers will learn about matching books with readers.
All attendees get lunch, swag, and free books.
Event location:
Naperville Public Library – 95th Street Location
3015 Cedar Glade Road
Naperville, IL 60564
Sponsored by: NoveList, Library Reads, Flame Tree Press, Sourcebooks, and Cemetery Dance
Tickets: $65/HWA or ARRT Member, $75/Nonmember
Register here
In light of CDC request to cancel all gatherings of 50+ people until mid-May, HWA Librarians' Day is being moved to November 12th, 2020.  We will be at the same location, and anticipate providing the same exceptional line-up of authors, panelists, and sponsors. 
However, we are happy to refund your existing registration for any reason.  Please don't hesitate to contact us! If you have any questions about the conference, please email Becky Spratford (bspratford@hotmail.com).