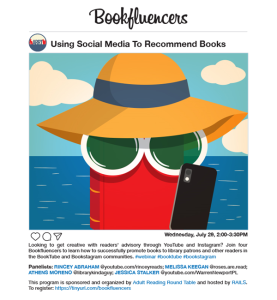 Bookfluencers: Using Social Media To Recommend Books
Looking to get creative with readers' advisory through YouTube and Instagram? Join an event sponsored by Adult Reading Round Table and learn from four Bookfluencers how to successfully promote books to library patrons and other readers in the BookTube and Bookstagram communities.
Panelists include: Rincey Abraham @youtube.com/rinceyreads; Melissa Keegan @roses.are.read; Athens Moreno @librarykindaguy ; Jessica Stalker @youtube.com/WarrenNewportPL .
This program is sponsored and organized by ARRT and hosted by RAILS.
Wed, July 29, 2020, 2:00 – 3:30 pm
 This is a free online program. You don't have to be an ARRT or RAILS member to participate, but spots are limited, so register now: