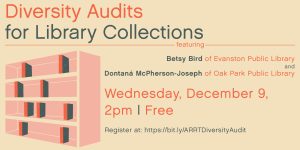 Join us on Wednesday, December 9 at 2 pm for a panel discussion with collection development librarians Betsy Bird of the Evanston Public Library and Dontaná McPherson-Joseph of the Oak Park Public Library. They will discuss the process of conducting a diversity audit and the results that led to changes in procedures and new initiatives for their collections.
Betsy Bird is the Collection Development Manager of Evanston Public Library. She is the former Youth Materials Specialist of New York Public Library and author of Children's Literature Gems: Choosing Them and Using Them in Your Library Career from ALA Editions. Her blog A Fuse #8 Production is hosted by School Library Journal.
Dontaná McPherson-Joseph is a Collection Management Librarian at Oak Park Public Library. Her to-read pile is a tower, so she is almost always reading two books simultaneously. She appreciates books with great cover art.
This program is sponsored and organized by the Adult Reading Round Table and hosted by RAILS. You don't need to be a member of ARRT or RAILS to participate, but spots are limited.