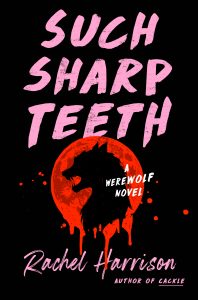 Please join us as we discuss Such Sharp Teeth by Rachel Harrison-
A young woman in need of a transformation finds herself in touch with the animal inside in this gripping, incisive novel from the author of Cackle and The Return.
Rory Morris isn't thrilled to be moving back to her hometown, even if it is temporary. There are bad memories there. But her twin sister, Scarlett, is pregnant, estranged from the baby's father, and needs support, so Rory returns to the place she thought she'd put in her rearview. After a night out at a bar where she runs into an old almost-flame, she hits a large animal with her car. And when she gets out to investigate, she's attacked.
Rory survives, miraculously, but life begins to look and feel different. She's unnaturally strong, with an aversion to silver–and suddenly the moon has her in its thrall. She's changing into someone else–something else, maybe even a monster. But does that mean she's putting those close to her in danger? Or is embracing the wildness inside of her the key to acceptance?
This darkly comedic love story is a brilliantly layered portrait of trauma, rage, and vulnerability.
-Summary courtesy of Goodreads.
The discussion will be held on:
Wednesday, October 11th, 2-4 PM
HYBRID. The discussion will take place at Niles-Maine District Library. Alternatively, participants may join virtually.
RSVP to Mike Hominick (mhominic@nileslibrary.org) *Please indicate whether you will attend in-person or virtually.
The first half of the meeting will be a traditional book club setting where library workers have the opportunity to participate in a discussion as "patrons." The second half will be devoted to our leadership topic, or nut-and-bolts session, where we share practical solutions to the problems and concerns of discussion leaders. Our leadership topic, led by Mary Kay Stiff, will be: Dealing with Political Tension in Book Clubs. 
Also, remember that you can always bring any problems or concerns you have with your group, no matter the topic, so we can all help each other.
REMINDER: You must be an ARRT member to attend Book Club Study. Go here to join ARRT or renew your membership.