HWA Librarians' Day 2020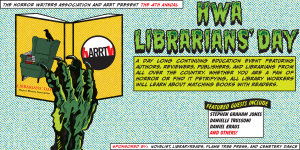 We are excited to announce that HWA Librarians' Day will be moving to a virtual format, and it will be COMPLETELY FREE!
All panels will be taped ahead of time and released on November 1st to the public through the HWA's YouTube Page. Throughout the month of November, the Adult Reading Round Table will be moderating an asynchronous Q&A.
We would also like to thank our sponsors who have stuck with us: NoveList, LibraryReads, and Flame Tree Press.
Registered attendees will be provided with an email address to pose their questions to the panelists. Questions and the answers will be posted for attendees to access. All will be able to see the Q&A, but only registered attendees will be able to ask questions.
Register for this new FREE event here
Please email Becky Spratford at bspratford@hotmail.com with any questions.
While signup for Librarians' Day is free we are also using this opportunity to launch a HWA Diversity Grant that was established with funds from the library community.
The Diversity Grants will be open to underrepresented, diverse people who have an interest in the horror writing genre, including, but not limited to writers, editors, reviewers, and library workers. Like the Diverse Works Inclusion Committee, the Diversity Grants have adopted the broadest definition of the word diversity to include, but not limited to, gender, gender identity, race, ethnicity, sexual orientation, disabled, and neurodiverse. Thanks to the generosity of NoveList, LibraryReads, ARRT, and RA for All, each 2020 Grant is worth $500 and may be spent on approved expenses for a period of two (2) years following the awarding of the Grant.
For details about the Diversity Grant and to apply please visit
this page
.
Find details about making a donation to the Diversity Grant
here
.
While the event is geared toward library workers, we encourage all HWA members to view the panels. There have been some panel changes, which appear below.
Each panel you attend is worth 1 hour of continuing education. Download your continuing education certificate here.
Program
Presenters
Video

Resources

Books Mentioned in This Panel

Q & A
Please register for this free event to receive access to the
Q & AClick on the Resources Link to view the live Q & A document updated in real time, most recent question first
The Scary Truth About Horror Reviews (Sponsored by Cemetery Dance) 

Featuring New York Times Book Review Horror Columnist Danielle Trussoni, Booklist and Library Journal Horror Reviewer Becky Spratford, and Cemetery Dance reviewer and owner of Night Worms Sadie Hartmann

Moderated by Ashley Rayner from the Chicago Public Library






Horror and Libraries: A Not So Scary Partnership
Featuring Gillian Cargile-King from Northern Illinois University, Konrad Stump from Springfield-Greene [MO] County Library, Cathleen Keyser from NoveList, and Gregg Winsor from Library Reads

Moderated by Lila Denning from the St. Petersburg [FL] Public Library








Summer Scares 2020: How to Feature Horror for All Ages at Your Library
Featuring members of the Summer Scares Committee and the announcement of the 2021 Summer Scares Spokesperson!

The State of Horror Today: A Conversation
Featuring authors Daniel Kraus, Stephen Graham Jones, and Cina Pelayo

Moderated by Becky Spratford




Meet Flame Tree Press
Featuring Editor Don D'Auria and Flame Tree Press authors John Everson, J.G. Faherty, J.H. Moncrieff, Melissa Prusi, and Steven Hopstaken

Moderated by Emily Vinci of the Schaumburg Public Library

Breathing New Life into Horror Classics
(Sponsored and organized by Sourcebooks)
A lively conversation with the co- editors of Poisoned Pen Press's Haunted Library of Horror Classics series Les Klinger and Eric Guignard, former HWA President Lisa Morton, and Los Angeles Public Library librarian Daryl Maxwell about the behind the scenes creation of the series and the use of horror titles in library book clubs and programming


To access the entire HWA Librarians' Day 2020 playlist, click here